International Security Alliance members train in metaverse using ENGAGE
When the pandemic stopped the world in its tracks with lockdowns announced across the globe, the world had a chance to experiment with innovative technologies that could bring us together. In the last two years, people have grown accustomed to moving to digital replacements for meetings and events. Even as global restrictions lift, people and organizations are still adopting digital and immersive technologies to collaborate and interact.
Recently, the UAE Ministry of Interior hosted a three-day virtual training exercise for security officials. From March 23-25, 2022, the Dubai World Expo 2020 hosted the ISALEX 2.0, and with the UAE known for being at the forefront of innovation, brought together 10 law enforcement organizations of the International Security Alliance for joint exercises in the metaverse. They claim that this could be a blueprint for the future.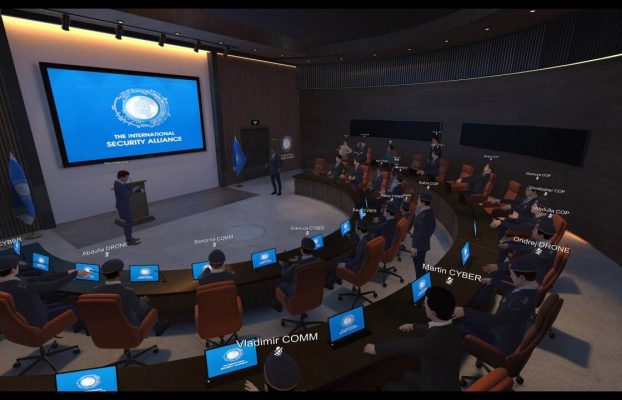 Before the event could occur, the Alliance dispatched VR headsets to all participating countries and trained the participants on how to use them. This event would be the first of its kind with enforcement teams from across the globe working synchronously in virtual environments to solve security problems. These activities ranged from drone attacks on airports to traffic light hacking in digital cities and a full-scale virtual attack on a sporting event. Simulated environments like this offer an immersive perspective of how to navigate and conduct these types of risks, enabling dispersed teams to have a shared training experience regardless of geographical barriers.
The virtual training exercise took place in ENGAGE, in collaboration with Mental, a Virtual Reality software development studio based in the UAE with offices in Montreal. Mental has been developing vocational training software in Virtual Reality since 2018 and has delivered simulations for its clients in the Energy and Defense sectors.